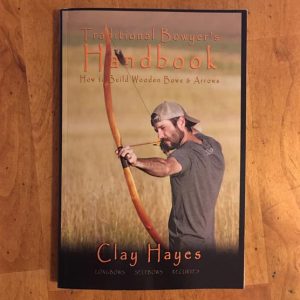 It's finally here! My new bow building book, Traditional Bowyer's Handbook, will guide you through the entire process of building a wood selfbow. The book starts off with a chapter on finding bow wood. No mater where you live in the country, you've got something close by that will make a bow. This chapter discusses many different species that can be found throughout the country and gives insight into how these woods can be used to make a great shooting bow.
The vast majority of my bow making experience has been with Osage, pacific yew, Eastern redcedar, persimmon, hickory, and a few other species. There are many, many more that I have very little or no firsthand experience with. For these species, such as ocean spray, vine maple, etc. I've included descriptions by a number of very knowledgeable bowyers from across the country.

Each of the woods we will discuss have different bow making qualities and, if we take those qualities into account, they'll all make good bows. In order to help you decide which wood is best for you, I'll rate each with a difficulty level (high, med, low) and give an explanation for the rating. Because there are often regional variations in common names, I'll also include the globally accepted Latin names in parentheses just so we're all on the same page. We'll start with the most well-known, and go from there. Clay Hayes – Traditional Bowyer's Handbook
In addition to all the basics you'll need to start and finish your own wood selfbow, this bow building book has chapters showing how to build a two piece take down selfbow, a flimish twist bow string (without a jig), wood arrows and more. This new bow building book is available through Amazon (click here). Signed copies will be available here on the website in early December.
I'd really like to thank the guys that contributed to this books section on Bow Woods and elseware. Below, you'll find links to their sites. Check them out, there's a lot of knowledge there.